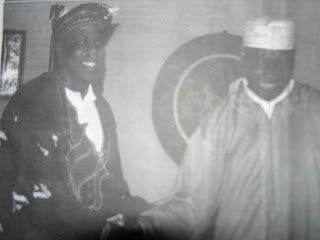 Ok, so I wasn't at the ThisDay Music Festival that held over this past weekend at Polo Club in Ikoyi. Which, let's be honest really sucks. The tickets were 25k per person or 100k per person VIP. I knew i didn't want to do the 25k thing, cuz if there's one thing i'm afraid of, it's nigerian crowds. Just my one experience at The Vault for the Big Brother eviction party, was enough to make up my mind. Pushing, shoving, too much "stushness", etc. So I wasn't gonna do that. Contemplated the 100k ticket for about a minute but then again, i came to the conclusion that it probably was a bad spending idea. I mean 100k could get me return tickets to europe, dubai, or south africa, definitely to ghana with some left over! Plus this is nigeria. After you spend your 100k they'll now tell you that there's a VIP extra and you can't go past that door (did any of y'all see that frasier episode?!)
Anywho, international artists were Beyonce, Jayz, Snoop Dogg, Busta Rhymes, Ciara, Missy, and En Vogue. Plus some local acts...Dare Art Alade, D'banj, Tuface, Weird MC etc. I am actually quite proud of this event as I heard that at least the first night (with the top stars) went ahead without any hitch. Everyone keeps saying it was well organized which is a very big deal for nigeria. Ciara spoke some Yoruba and Beyonce sang the national anthem, which everyone is saying is the BEST they've ever heard it, so it's ALL good! Seriously I still can't believe that they pulled it off. Y'all should have seen the pic of Snoop at Murtala, I just CRACKED UP!!!! the man just looked like he was sweating like a Christmas goat, he didn't look so sleek.............Lagos heat'll do that to ya! This is definitely another sign that Nigeria is on the up and up. I don't care what anyone says about Obasanjo, but his administration have seen a lot of development in the economy, opening up of the image of Nigeria, and confidence in the country the world over. At least those are good things. So keep it up Nigeria & Nigerians!
Sorry about the quality of the pic, but hey, it's a newspaper, whaddya want?!?!